We want to be the place you go to take care of your child's health and medical needs, so please call our office if you have any medical questions.
If you reach us outside of regular business hours, you can speak directly to one of our physicians on call. We will help you determine if your child needs to be seen, or if your child needs the care of an emergency room or hospital. If your child requires hospitalization, our physicians are on staff at Honor Health Shea and Phoenix Children's Hospital. Both of these hospitals have pediatric emergency departments and full pediatric services. If you live in the West Valley, the Pediatric ER at Honor Health Deer Valley-Mendy's Place is an excellent resource.
If you would like more information about your child's illness or symptoms, please see our medical resource section and visit the website provided by The American Academy of Pediatrics at: www.healthychildren.org .
---
Medication For Fever:
Acetaminophen (Tylenol) Dosing Chart
May give acetaminophen dose every 4 - 8 hours: No more than 5 doses in 24hrs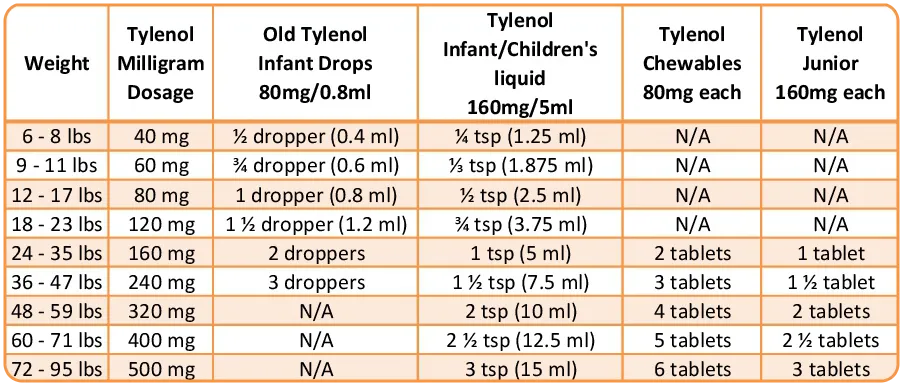 Ibuprofen (Motrin/Advil) Dosing Chart
( FOR BABIES 6 MONTHS and ABOVE ONLY )
May give ibuprofen dose every 6 - 8 hours

Benadryl Dosing Chart
DIPHENHYDRAMINE (Brand Name: Benadryl)**
For infants 6 months or older only**
Benadryl is an antihistamine, so it can be used for allergic reactions, allergies, and for cough/cold symptoms. It can be given every 6 hours. Benadryl comes in Children's liquid suspension, Children's Chewable tablets, Children's Meltaway strips or adult tablets.